This has been a tough week.
Immediately following Tuesday's debate, I tweeted:
I almost wrote a piece in the hours after the debate. But I opted to reflect for a day or two, before expanding on this initial reaction.
"Assault" is a strong charge. But words are a powerful weapon. They cut the heart. They silence opponents. They force others to submit. The biblical wisdom tradition insists that words can nurture or destroy: "A gentle tongue is a tree of life, but perverseness in it breaks the spirit" (Proverbs 15:4). And the wisdom writers also knew that words are a weapon, "Like a war club, a sword, or a sharp arrow is one who bears false witness against a neighbor" (Proverbs 25:18).
Donald Trump weaponized words, intending to "break the spirit" of Joe Biden, of Chris Wallace, of those watching, and even of America's democratic traditions. Not only was it mean and rude and unfair and cruel, but most of us intuited that the verbal violence was sinful. It was a purposeful exercise in evil.
That isn't CNN analysis, and it isn't something that can be published in the New York Times. But it is a Christian perspective on what happened. Trump sinned against America on Tuesday night. He violated our individual souls and our communal one. When I was younger (and attended an evangelical church), we called such things "spiritual attacks."
These kinds of attacks wound on several levels, leaving immediate bruises and long-term trauma. In the short-term, they are like gut punches, taking our breath away. We are knocked off our feet; we feel confused and disoriented. Longer term trauma — sleeplessness, panic attacks, depression — can set in. On a deeper spiritual level, they unmoor us, undermining our capacity to love our neighbors, causing us to doubt ourselves and God.
It is necessary to name what happened on Tuesday night honestly — an act of verbal evil on the part of the President against his opponent, the process, and the American people. And, once named, we each need to tend to our wounds and the wounds of others to heal.
As we move ahead, worried about COVID and fearing the election, it is important to take care of yourself. Self-care does not mean checking out of work or activism. It means being aware of our own wounds, and being keenly aware of how other people in our lives are feeling equally pained.
The great Catholic writer Henri Nouwen once wrote that the most transformative works of justice arise from those who are "wounded healers." As he said, "every Christian is constantly invited to overcome his neighbor's fear by entering into it with him, and to find in the fellowship of suffering the way to freedom."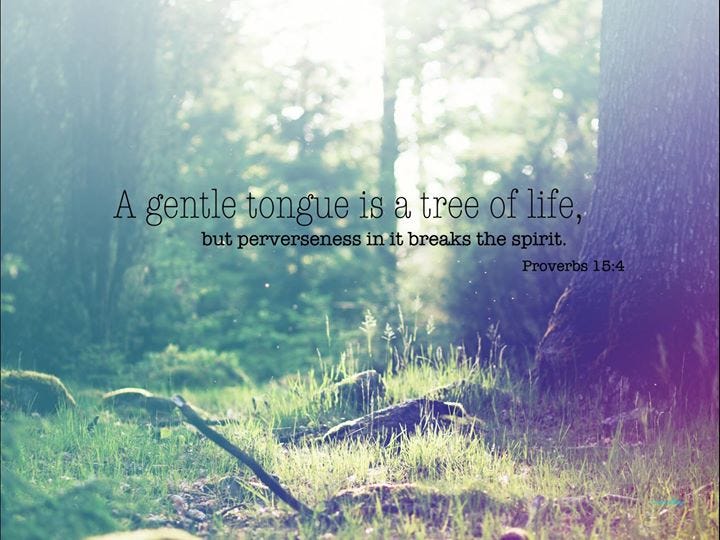 We have a spiritual tool at hand to begin the work of mending: words. "There is one whose rash words are like sword thrusts," says Proverbs, "but the tongue of the wise brings healing" (Proverbs 12:18). Overcoming evil with good means attending to the words we listen to, the words we preach, the words we use on social media, the words we offer to others. Good words are the antidote to having been wounded by words. "Gracious words are like a honeycomb, sweetness to the soul and health to the body."
Breathe. Pray. Read scripture. Say thank you. Refrain from returning evil words for evil words. Recite poetry.
Then get back to the work of being the beloved community. Use your beautiful words to defeat evil. Speak up for the sick and fearful. And vote.
---
---
INSPIRATION:

A soft answer turns away wrath,
but a harsh word stirs up anger.
The tongue of the wise dispenses knowledge,
but the mouth of the fool gushes folly.
—Proverbs 15:1-2

Tell me about your despair, yours, and I will tell you mine.
Meanwhile the world goes on.
Meanwhile the sun and the clear pebbles of the rain
are moving across the landscapes,
over the prairies and the deep trees,
the mountains and the rivers.
— Mary Oliver

The tongue is a small member, yet it boasts of great exploits. How great a forest is set ablaze by a small fire! And the tongue is a fire. The tongue is placed among our members as a world of iniquity; it stains the whole body, sets on fire the cycle of nature, and is itself set on fire by hell.
— James 3:5-6

There exists, for everyone, a sentence - a series of words - that has the power to destroy you. Another sentence exists, another series of words, that could heal you. If you're lucky you will get the second, but you can be certain of getting the first.
― Philip K. Dick

people say things
meant to rip you in half
but you hold the power to not
turn their words into a knife
and cut yourself
― Rupi Kaur

In the beginning was the Word, and the Word was with God, and the Word was God.
—John 1:1
---
This edition of The Cottage was written and scheduled for publication before the news of Donald Trump and others at the White House being diagnosed with COVID-19. Please pray for the healing of those who are ill, for those who may have been exposed, for the healing of every person now suffering from COVID, and for all those who are mourning the loss of friends and family to the pandemic. Pray for healing of our nation, and for courage and resolve at this fragile and fraught time.
---

THE COTTAGE publishes each Tuesday and Friday, with occasional weekend specials, alternating between commentary on religion and culture and inspiration for a more meaningful faith - all from an unexpected point of view. Subscribe for free and never miss an issue.
---